Our services • Embedded insurance
Whatever the size of your company or sector, we integrate insurance services into your existing ecosystem. Creating added value to your customers, broadening engagement and improving customer satisfaction.
We create, deploy and manage embedded insurance programs for the manufacturing and distribution of digital consumer products.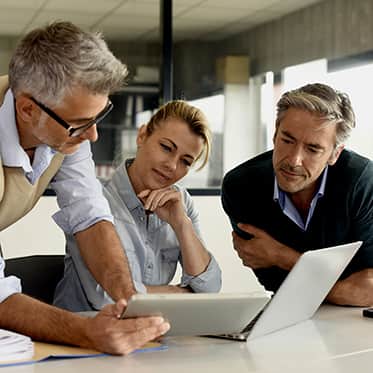 Our insurance Specialisms

Mobile Phone
From Apple and Samsung handsets to Oppo, Sony and Nokia, we provide cover for most phone makes and models.

Gadget
We provide products to cover most types of gadgets - from laptops to tablets, headphones and games consoles.

Medical Devices
Our specialist cover for life preserving devices ensures customers receive a new replacement device in a little as 24 hours.
Create compelling and useful insurance products
Whatever your sector, our experts create and develop innovative, useful and simple insurance, assistance or warranty extensions. Each of these are embedded in your purchasing journeys. 
Our teams specialise in offering tailor-made insurance solutions across B2B2C and B2B2B audiences. We have several benchmark insurance partners who bear the risk, including AXA, UK General, Collinsons and Lloyds of London.
Our embedded insurance solutions make it possible to promote your own offer, build customer loyalty, generate a strong customer relationship and provide you with a source of additional income. 
By offering your customers a personalised insurance that meets their needs, at the right time, you set yourself apart from your competitors by providing your customers with an enriched customer experience.
Promote your offers and retain your customers
Fully managed insurance services
We identify your expectations and adapt the marketing strategy according to your distribution needs, managing the life of contracts (subscriptions, direct debits, renewals) and claims reports.
This is all thanks to our experienced teams, our innovative data capture solutions, our optimised document processing processes and an international know-how accumulated since 1965.
With a full end to end proposition well positioned in the market, we are able to fine-tune and operate a wide range of programs. This includes a reverse-pricing approach stemming from the purchasing power of your clients and your diversification policy. 
Programs are monitored continuously and precisely by our data specialists with the rates adjusted regularly according to changes in risk and customer behaviour.
Pricing a wide range of programs
Friendly UK based call centres
Warranties on repair or replacement devices
End to End Service Delivery
Automated Claims Management
Dedicated Account Manager with agreed SLAs
Award Winning Customer Service
See which sectors we operate in
Do you have another activity?
We have the solution!

Some of OUR PARTNERS & Friends